Top 5 Conventional and Objective Books for Clearing and preparing for Civil Engineering Government Competitive Exams and Interviews ( includes- Gupta and Gupta Civil Engineering Objective Book)– If you are looking for clearing Government exams after your B-Tech in Civil Engineering then it is gonna be the best reference article for all of you. The biggest doubt in the mind of all students is about the reference books which you can follow to clear these government exams. By Clearing these government exams you can easily get a Job of Junior Engineer in Government organization like PWD, CPWD, Punjab Water Resources, Punjab Mandi Board, PUDA, PSPCL, PPSC.
Here we are showing you the best books which you can follow to clear your government competitive exams. In my suggestion, you should follow objective type books only at the time of exams because most of the government exams are objective type in which you have to choose 1 correct out of the given 4.
Top 5 Must Read Books for Clearing Civil Engineering Government Exams-
Latest for 2019-2020 session-
Gupta and Gupta ( SP Gupta and SS Gupta) Civil Engineering Objective Book ( Paperback and Kindle PDF)-
Contents-
This book contains simple yet brief explanations for each answer, which are covered in Appendix B. Major topics covered in the book are Fluid Mechanics, Surveying, Irrigation, Water Resources Engineering and Hydrology, Highway Engineering, Railway Engineering, Environmental Engineering, Construction Planning and Management, and Materials and Construction.
Note-
Gupta and Gupta is the most trusted and demanded books. Book has also covered IES and CIVIL SERVICE questions.
Review from Navneet-

All civil engineers must read the this book before any competative exams, but sum asnwers are mistake, objective types questions are good .Use full for psc and rrb, and other exams.
---
1.1 Civil Engineering: Conventional and Objective Type (2019-20 Session)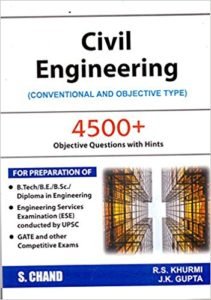 Contents-
Oscillations and Waves
Electrostatics
Magnetostatics and Electrodynamics
Electromagnetic Waves
Light
Interference
Diffraction
Polarization
Optical activity
Optical fibres
Architectural Acoustics
Ultrasonics
Electron Emission
Electron Ballistics
Electron Optics
Elements of Thermodynamics
Thermoelectricity
Special Theory of Relativity
Atomic Physics
Quantum Mechanics
Atomic Nucleus and Nuclear Energy
Cosmic Rays and Elementary Particles
Nuclear Instruments
Lasers
Holography
Crystal Structures
Crystal Defects
Conductors
Band Theory of Solids
Semiconductors
Semiconductor Diodes
Bipolar Junction Transistor
Dielectrics
Magnetic Materials
Superconductivity
Modern Engineering Materials
Non Destructive Testing
Vacuum Technology
Nanotechnology
Geometrical Optics
Note- Khurmi's 2018-2019 version books have a lot more Content than its older version. So, I personally prefer you to opt for the newer version of this book. 
Review from Suraj Gangani-
Best book for students of civil engineering, it's the one of the best book to crack exams based on civil engineering aptitude. As whole aspect of civil engineering from foundation to design and also traffic, heavy structure are explained in quite simple way to get keen perception of particular area.
---
1.2 

Civil Engineering: Conventional and Objective Type by Khurmi R.S. (Author), Gupta J.K (Older Cover)
Contents:
Engineering Mechanics
Strength of materials
Hydraulics
Fluid mechanics
Hydraulic machines
Surveying
Building materials
Irrigation engineering
Public health engineering
Highway engineering
Railway engineering
Soil mechanics and foundations
Building constructions
Concrete technology
Reinforced cement concrete structures
Steel structures design
Construction management
Engineering geology
Review from YOGI-

Good book for any type of civil Engineering exams.
I must say if your study will not done and tomorrow will your exam them also you can refer this and can secure 75 marks.
2. 
Civil Engineering: Through Objective Type Questions

 

Paperback

 

– 1 Dec 2009 

by Gupta
Contents-
Fluid Mechanics, Surveying, Irrigation, Water Resources Engineering and Hydrology, Highway Engineering, Railway Engineering, Environmental Engineering, Construction Planning and Management, and Materials and Construction.
Other topics included in the book are Social Mechanise and Foundation Engineering, Building Materials and Construction, Strength of Materials, Applied Mechanics and Graphic Statics, Structural Analysis, Design of steel structures, Concrete Technology and Design of concrete structures, Design of Masonry Structures, Dock and Harbour Engineering, Turned Engineering.
Review from Rajendra-
Full Objective Type questions. – Simple description given for each answers.
ES previous questions included.
3. Civil Engineering: Objective Type and Conventional Questions and Answer by R. Agor-
Contents-
This has Basic Civil Engineering Concept questions. The book has been divided into different sections that include numerous multiple choice questions, typical questions that are generally asked by U.P.S.C. for Civil engineering and GATE.
Review from NagarJan-
Nice Book, and Very Useful for me, This Book Contains More no. of previous exams and model questions, and also standard for civil engineering objective type exams
4. 3200 MCQs: Civil Engineering- Practice Book for ESE, GATE & PSUs by B. Singh-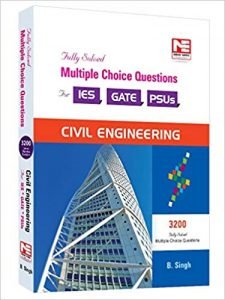 Contents-
The book, '3200 MCQ for IES/GATE/PSUs: Civil Engineering: Fully Solved Multiple Choice Questions for IES, GATE, PSUs' is a useful study material for students who are preparing for various entrance exams like the IES, GATE and PSU.
Review from Ankit-
Please read this if u r really serious about Gate and other competitive exams.
* it is subjectwise + chapterwise objective question and answer type book.
* it is updated 2015 edition guide book.
* u know it is by # Made easy.
5. Objective Civil Engineering with Study Material by RPH Editorial Board –
Contents-
This comprehensive book is useful for Objective Civil Engineering Exams. This book included Study Material and Multiple Choice Questions. Detailed Explanatory Answers have also been provided for the selected questions for Better Understanding of the Candidates.
Review by User-
90% of the book copy from Gupta & Gupta. If you have Gupta & Gupta don't purchase it. However this book are good for Diploma level examination.
This was all for the Best books for preparing for Civil Engineering Government Competitive exams.
Comment below with your experience must.